We love seeing Rusty's Relics creations on Crafter's Market! John uses his keen eyes to find all sorts of items destined for the trash and transforms them into mind-blowing up-cycled creations you'll see below. All from his workshop in the heart of the beautiful Cotswold's.
Hi John 👋, can you introduce yourself?
Hi, my name is John and my little business empire is called Rusty's Relics. I'm based in the heart of the Cotswolds on the outskirts of the medieval town of Burford and I Reclaim, Repurpose and Reuse all manner of scrap metals by turning them into to name but a few, birds, bees, dogs, cats, insects, clocks, planes and many more objects that for one give the raw materials another life and make ideal one of a kind unique gifts.
So, Rusty's Relics, where does this business name come from?
My business name is quite apt really as it's a bit of a throwback to my childhood years, with a surname like mine, which is Rustage, coupled with being a ginger haired lad back in the day.
I was always through childhood called Rusty by everyone and so the nickname stuck with me until this day.
Once I started my business using the old materials that I could gather I partnered my nickname Rusty with the objects I was gathering (Relics) and voila I came up with a great name for my venture.
What do you love about your business?
The things I just love about my business are that I work from home in my little workshop in the garden so can come and go as I please, I take satisfaction in the fact that I save a heck of a lot of old and unused items from the landfill or smelting pot and most importantly of all I through my work can put smiles on peoples faces by providing some cracking little pieces that are truly unique to Rusty's Relics.
What's your absolute favourite item to sell?
The absolute favourite item that I create and sell are my little spitfire planes, I just love history and am especially interested in wartime history so when I happened to stumble upon some old champion spark plugs that were made in Britain I just had to have a go at combining some butter knife wings to create my Rusty's Relics spark plug Spitfires, they turn out really well and are one of my most popular lines. (spitfire photo included in pictures).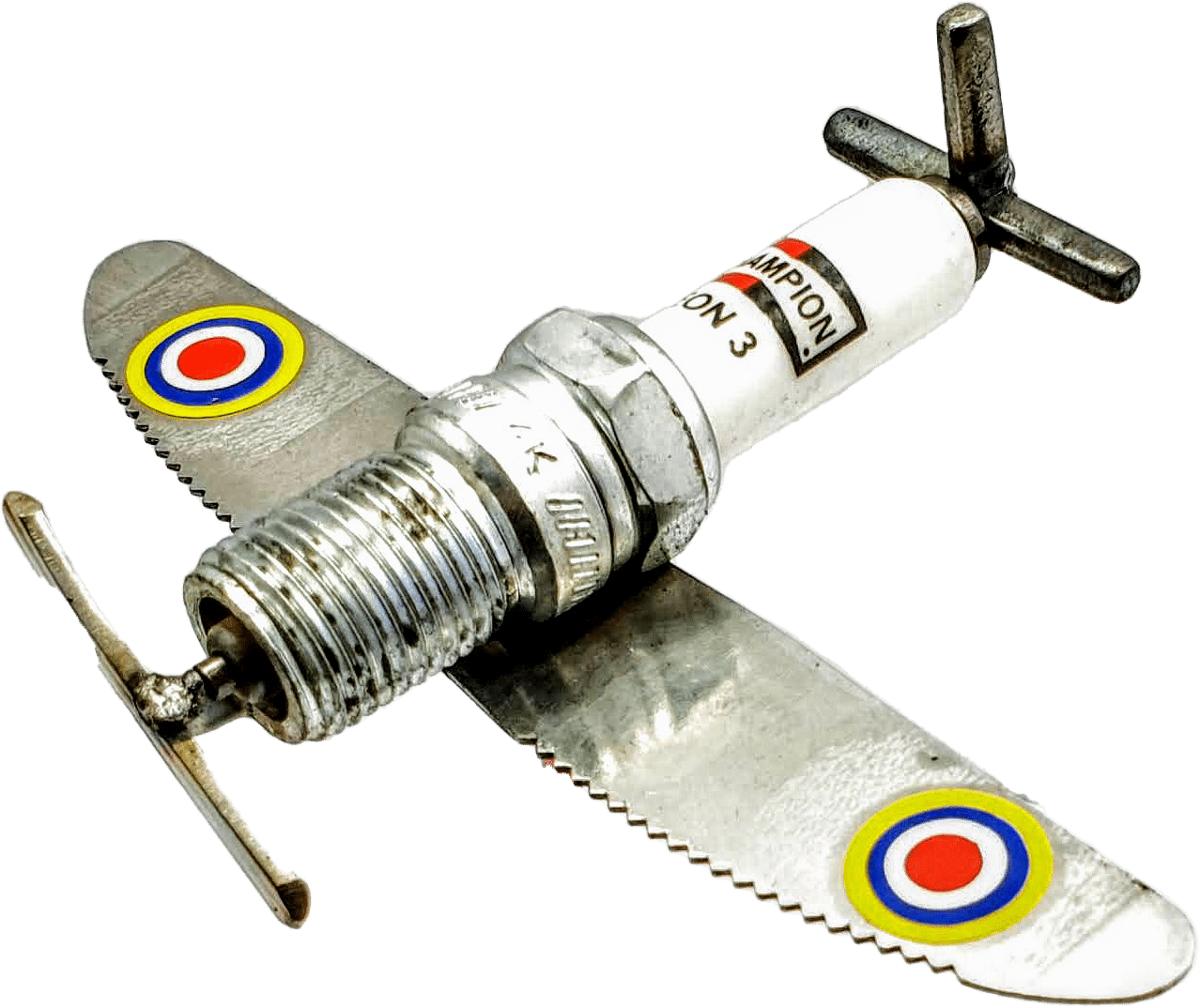 What does your workspace look like?
My workshop (the missus calls it my shed but this is NOT THE CASE AT ALL, it really is a workshop ha ha ha) I built myself after sticking with my ethos of Reclaiming and repurposing I managed to get a hold of some old warehouse shelving which once I'd bolted together provided me with the perfect workshop, I was extremely proud of this achievement as all in all the cost for my 14ft x 8ft workshop was just £50 (and a few long hard days of building) which saved me a heck of a lot of dosh which I was able to put towards tools and home comforts such as my tassimo and diesel heater, after all you need to have a comfortable environment to get the creative juices flowing ha ha.
My workshop normally holds far more that I'm sure the floor and walls would like. I have my most important piece of equipment which is my little Mig welder then there are grinders, polishers, sanders, hammers, metal benders and the usual array of tools.
Then dozens of boxes of raw materials that I use for my pieces, these can consist of anything really that I find and think that maybe could be incorporated in a sculpture at some point, for example, vintage spanners, thousands of pieces of cutlery, bicycle parts, car parts, driftwood, old screws and nails, the list is endless! If I didn't use these bits for my work I'd probably be classed as a Hoarder and end up on one of those TV programs 😂
Where do you get your inspiration from?
Inspiration for my business was provided my children who clubbed together to buy me a welder after I fleetingly said that one thing I had never tried was welding and I'd love to give it a go. Once I got it set up and was ready to weld I then realised I didn't have a clue and didn't even have any scrap to weld together anyway so my good lady wife sorted through the cutlery drawer and gave me a bundle of knives, forks and spoons tp practice on, after a few hours and many burnt fingertips I managed to create what if you looked at it in a certain way resembled something like a bird and this is where my journey started.
Since that day three years ago all we have eaten in our house is 'finger food' because for some reason no matter how many cutlery canteens my wife buys we always seem to lose the cutlery at an alarming rate (I blame the kids)😂
What would you say to someone thinking about selling their work online for the first time?
For anyone starting out with their own creations to sell on line I would just say 'GO FOR IT', you never know until you try and NEVER doubt yourself as this will only make you feel bad about what you are trying to do, things might not go to plan at first but just persevere and give it your all.
Where can we find your work other than on Crafter's Market UK?
So my pieces are mainly online with Crafters Market, I started out on Etsy but have since kicked that to touch as I would rather for now just concentrate on UK sales with a great upcoming market place such as cmuk. I do have a presence in my local town of Burford in a lovely little shop called Cotswold Glass and crafts which has about a dozen of us local makers with our products for sale, and also this year is my first year of attending outside events as a trader which is going really well thus far and I'm off to my second Steam and vintage show in a few weeks time so the workshop has been a real hive of activity lately with me furiously making enough pieces for the shows.
Read more about John and to view his Crafter's Market UK shop.
---